Virginia Bicycle Accident Attorneys
Protecting the Rights of Injured Cyclists Throughout Virginia
Cyclists are no match for an automobile when an accident happens. The lack of protection and speed of these collisions tend to lead to serious injuries, especially in high traffic or congested roads. If you have been injured in a bike accident, you need to take immediate legal action to protect your rights to compensation.
At The Barrera Law Firm, PLLC, we have been representing injured individuals, including bicyclists, for over 75 years. As a bicyclist, you may face blame for an accident even if it was caused completely by a driver's negligence. This can be an obstacle to you receiving the compensation you need and deserve. If you're trying to recover from serious injuries, fighting with insurers can take up most of your time and energy. When you work with our team, you'll get professional support, 24/7 availability, and a client-centered process that keeps you fully informed on the status of your claim. We are here to help you fight for the compensation you need for your injuries, no matter how minor they may seem.
Call our Alexandria bicycle accident lawyers today at (571) 290-2390 to schedule your free consultation. We are here to help 24/7.
Thousands of Cases Handled in Virginia and Beyond
The Barrera Law Firm, PLLC has handled thousands of personal injury cases and helped our clients obtain the compensation they need and deserve. We are not afraid of standing up to deep-pocketed insurance companies in pursuit of what we believe is fair treatment for our clients.
As soon as you turn to us for help, we will begin creating a personalized case strategy tailored to meet your needs. Our hands-on approach to personal injury cases has translated into substantial settlements, which led to our inclusion in the Million Dollar Advocates Forum®. In fact, we've recovered over $75 million for our clients and taken more than 100 cases to trial. Our attorneys are highly qualified to help with your injury case.
Bicycle Accident Statistics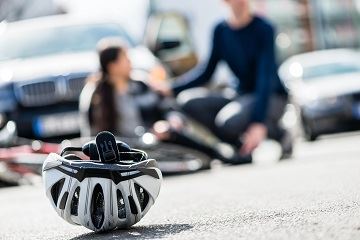 Bicycle accidents happen every day, as do fatalities. In 2018, the latest year for which the National Highway Traffic Safety Administration (NHTSA) has data, 857 bicyclists were killed in traffic collisions. CDC data suggests over 450,000 others were injured badly enough they sought medical care. Whether short-term treatment was successful or the victim sustained a permanent disability, each one of these accidents caused victims to miss work, accrue unexpected medical costs, and suffer other negative consequences.
Recovering Damages After a Bike Accident
Making a claim can help you re-balance your finances after a serious injury and take time to heal rather than worrying about how you will cover your mounting expenses. It's also a way to hold the at-fault driver responsible for their carelessness. All bikers have seen firsthand the way some motorists disregard our safety. This isn't just rude, but also dangerous—and when it results in injury, the driver should be forced to acknowledge the harmful outcome of their behavior.
We are here for you if you're ready to make a claim for damages including:
Medical care
Physical therapy
Income loss
Pain and suffering
Property damage
For those families who sadly lost a loved one to a driver's negligence, you are not without recourse. Our Virginia bike accident attorneys can guide you through the wrongful death claims process as you seek justice for the deceased.
Causes of Bike Accidents
Bicyclists are expected to follow the rules of the road just like everyone else, but even when doing so, another driver's negligence can cause a collision. A common excuse given by motorists is, "I didn't see them!" However, just because bicyclists are smaller than other vehicles does not mean drivers have an excuse for missing or ignoring them.
These accidents often happen when:
A driver enters the roadway from a driveway or alley or pulls out of a street parking spot
Drivers ignore stop signs, red lights, or other traffic signals
A motorcyclist turns into a bicyclist's path (this can happen with either right or left turns)
A bicyclist does not make it through an intersection before the light turns red
A driver does not leave enough room when passing a bicyclist
As you may imagine, wide streets with ample bike lanes and lower speed limits are safer for bicyclists. A study of accidents by the Federal Highway Administration (FHWA) found that 75% of traffic collisions happened on two-lane roads. Catastrophic injury and death are more likely on narrower roads and those with higher speed limits.
Bicyclists may sustain injuries including:
Broken bones
Ruptured disks
Facial injury
Head and neck injury
These injuries can cause more disruptions and expenses than most people imagine, or even notice in the moment. Talk to our Virginia attorneys to make sure you're asking for the full worth of your claim.
Looking for a Spanish-Speaking Lawyer?
Our law firm is proudly led by Attorney Daniel Barrera, a fluent Spanish speaker who can guide you through the claims-filing process from start to finish. Especially if English is not your native language, an insurance company may see you as someone who is easier to underpay. Come to our firm instead for a free consultation and a representative who can converse fluently in Spanish, so you can be confident you fully understand your rights and options.
Our Alexandria bicycle accident attorneys are ready to help wherever you need us: Between our team members, we are licensed in Virginia, Maryland, Washington, D.C., New York, and beyond. No matter where your accident happened, you deserve a quality advocate to fight for you. We are here to be that person.
Call The Barrera Law Firm, PLLC at (571) 290-2390 to learn how our bicycle accident attorneys in Virginia can help you find justice. We offer free consultations to all prospective clients.